Come and meet IoThink Solutions at SIDO Paris 2022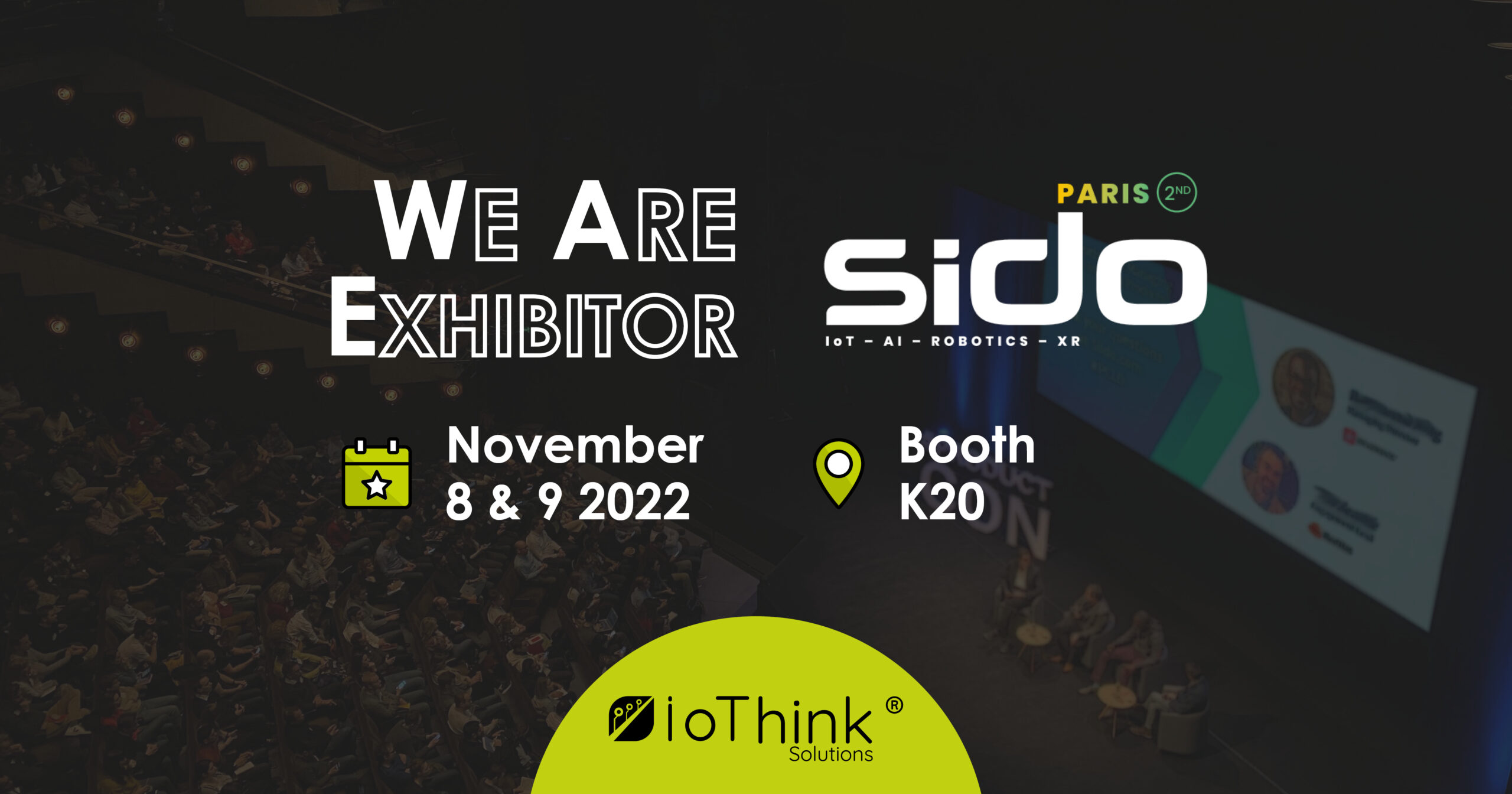 IoThink Solutions will exhibit at SIDO Paris 2022 on November 8 & 9, 2022. Meet us to learn more about our end-to-end IoT platform. Our KHEIRON IoT Suite is the perfect solution for all IoT projects and more. It is designed to be fast, agnostic, easy to use, and beneficial to our customers.
Come and meet us on our booth K20
Julien, Jean-Philippe and Thomas will represent the IoThink Solutions team. They will welcome you on our booth K20 for live demos of our IoT platform and will give you an overview of its business innovations: dashboard studio, device and endpoints library, web and mobile IoT platform and some of the platform features such as the multi-tenant function or the admin console, etc.
IoThink Solutions is an international software editor specialized in IoT/M2M platforms and expert in integration. Launched in 2016, the company has created the most innovative IoT solution to control your devices, monitor your fleet and analyze your data.
This IoT toolset is called KHEIRON IoT Suite and includes:
IoThink Solutions has also developed KHEIRON IoT Hub, which allows you to connect all kinds of devices: sensors, machines, databases, etc. with arbitrary connectivity: LoRaWAN, LTE-M, NB-IoT, Cellular, etc. then to collect all your data in an interoperable and agnostic IoT Hub to finally send it to specialized or expert solutions (ERP, BI, CRM, CMMS, …).
+5700 professionals use our IoT solutions every day. From SMBs to international enterprises, we offer connectivity solutions that best fit your business needs.
Book a meeting with us to learn how we can support you in your IoT projects:
SIDO PARIS: fertile ground for innovation!
After 8 editions in Lyon and a successful launch in Paris in November 2021, SIDO now offers two annual events and is becoming the must-attend event in Europe dedicated to the convergence of IoT, Artificial Intelligence, Robotics and XR Solutions and Technologies for strategic innovation and operational business decision-makers.
Located in the heart of France's two leading industrial regions, SIDO takes place as close as possible to the decision-makers' centres: two fertile grounds for driving innovation at the heart of all product and service companies!
SIDO Paris, a complementary edition to SIDO Lyon with a wide range of sectors: Industry, Construction, Transport & Mobility, Retail, Fintech & Insurance. We were also present at SIDO Lyon 2022.
A high-quality program and content: forward-looking plenary conferences, expert round tables on issues/strategy & solutions workshops and success stories.
There is still time to register for SIDO Paris!
More information about
KHEIRON IoT Suite