Meet IoThink Solutions at SIDO Lyon 2022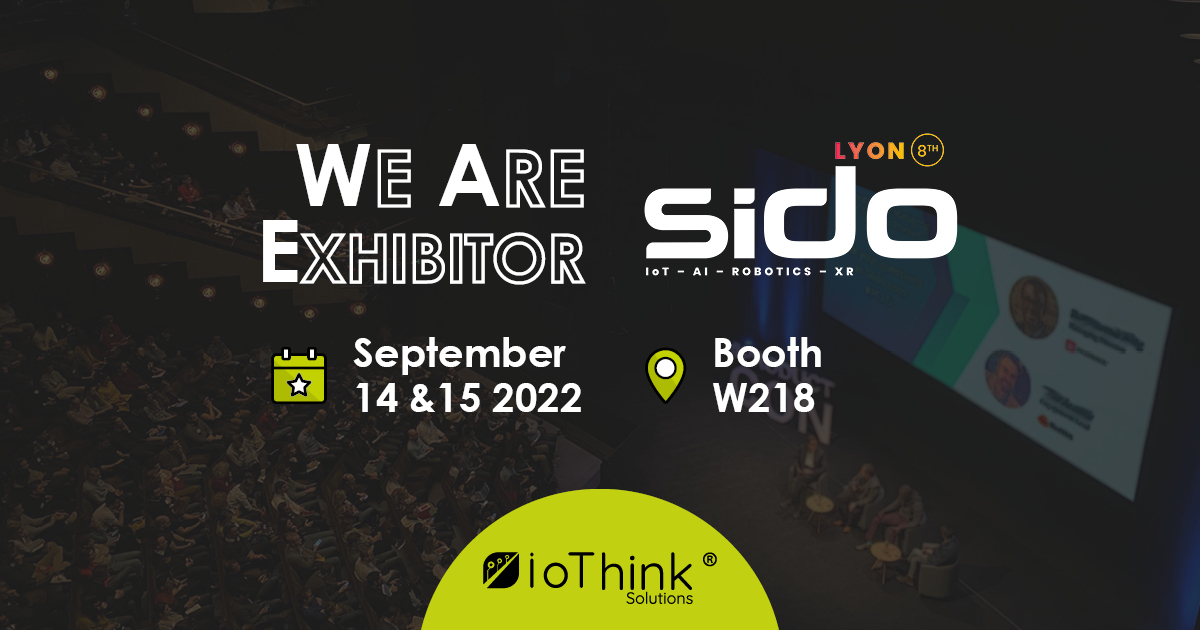 On September 14 & 15 2022, IoThink Solutions will be exhibiting at SIDO Lyon 2022. Come and meet us to learn more about our all-in-one IoT platform. Our KHEIRON IoT Suite is the best answer to all your IoT projects and much more. It's designed to be fast, agnostic, user friendly and profitable for our customers.
Come and meet us on our booth W218
Julien and Lucile will represent the IoThink Solutions team. They will be delighted to welcome you on our booth W218 for live demos of our IoT platform and will give you an overview of its business innovations: dashboard studio, device and endpoints library, web and mobile IoT platform and some of the platform features such as the multi-tenant function or the admin console, etc.
IoThink Solutions is an international software editor specialized in IoT/M2M platforms and expert in integration. Launched in 2016, the company has created the most innovative IoT solution to control your devices, monitor your fleet and analyze your data. This IoT toolset is called KHEIRON IoT Suite and includes:
Over 3000 professionals work on a daily basis with our IoT solutions. From SMBs to international corporations, we provide them with the best-connected solutions in line with their business needs.
Designed to Make IoT Simple, our KHEIRON IoT Suite removes all the pain points related to the implementation and deployment of IoT applications and allows you:
To easily create a Go-to-market solution in less than 5 days,
To work with heterogeneous data : the platform is interoperable and compatible with any type of sensor or machine, any use case and any type of connectivity (Sigfox, LoRaWAN, NB-IoT, LTE-M, GSM, Wifi, etc.),
To scale up (it will work either for PoC or high volume projects),

To increase your ROI and generate new revenue streams,

To address various markets such as: Smart Building, Smart Industry, Smart City, Smart Retail, Smart Energy and Smart Agriculture,
To customize the platform to your brand with a full white label feature.
To not miss your chance to meet us on the show, schedule a meeting with our team:
SIDO Lyon is the leading B2B event on IoT, AI and Robotics technologies
Experience innovation differently! SIDO is strengthening its leadership in Europe on the convergence of IoT, AI, Robotics, and XR technologies! Breaking down the barriers between these technological spheres, SIDO brings together ecosystems, sparks innovation, and supports companies in making their increasingly intelligent connected, and autonomous projects a reality.
Take part in Europe's largest B2B showroom for strategic decision-makers in innovation and business operations.
There is still time to register and meet us at SIDO Lyon!
More information about
KHEIRON IoT Suite