IoThink Solutions sera à l'IoT Tech Expo Europe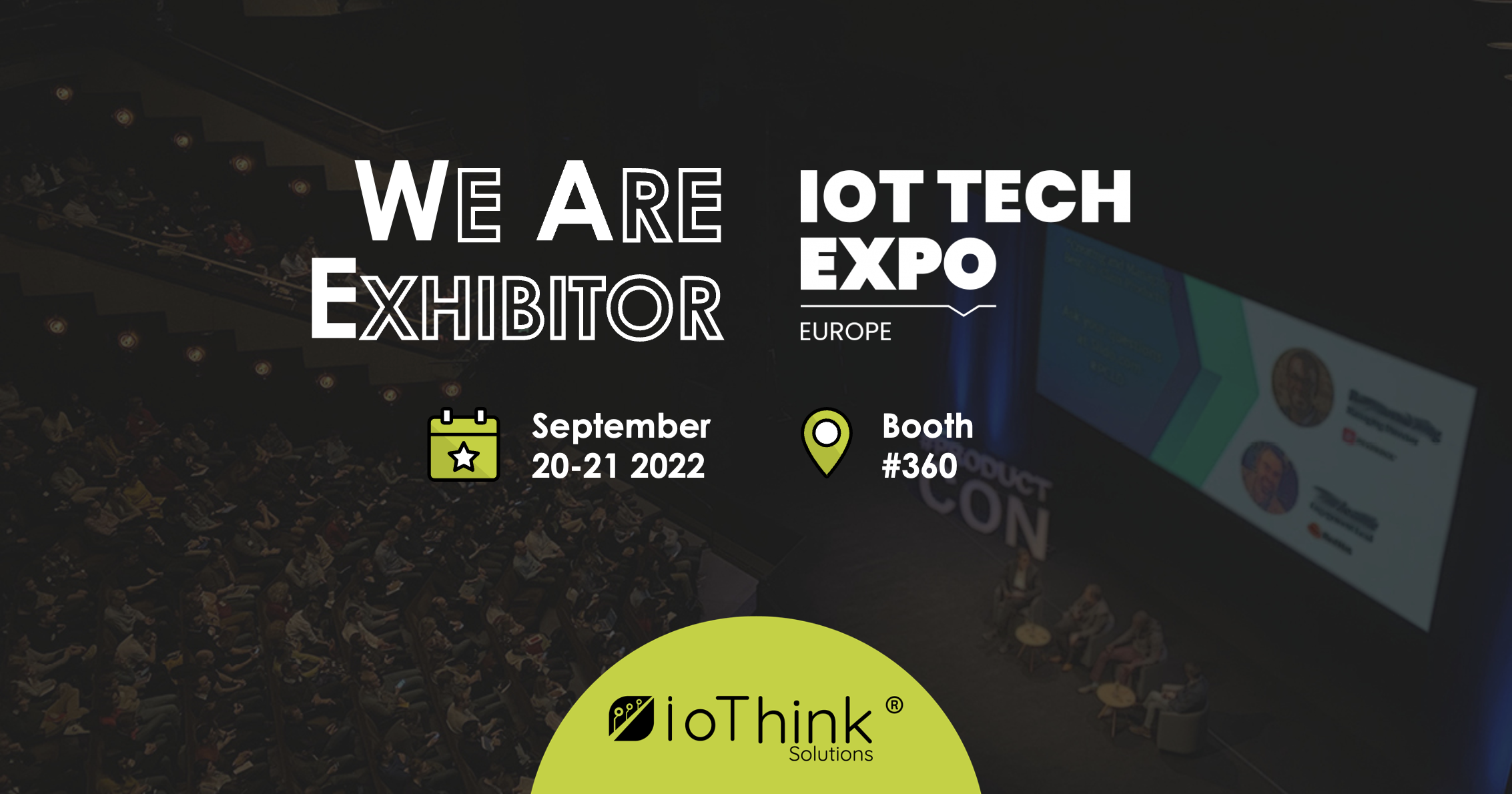 Nous sommes ravis d'annoncer qu'IoThink Solutions exposera à la prochaine IoT Tech Expo Europe au RAI d'Amsterdam les 20 et 21 septembre 2022. L'événement et la conférence présenteront les technologies les plus avancées et donneront un aperçu de plus de 250 conférenciers partageant leurs connaissances inégalées de l'industrie et leurs expériences de la vie réelle.
As a valued part of our community, we would love for you to join us at the event, and so we've been given the opportunity to invite you to attend for free. Meet us on booth #360 to discover and assist to live demos of our all-in-one IoT platform,
En tant que membre précieux de notre communauté, nous serions ravis que vous vous joigniez à nous lors de l'événement, et nous avons donc eu la possibilité de vous inviter à y assister gratuitement. Retrouvez-nous sur le stand #360 pour découvrir et assister à des démonstrations en direct de notre plateforme IoT tout-en-un, Kheiron IoT Suite. Nous vous donnerons un aperçu de ses innovations métiers : studio de tableaux de bord, bibliothèque de capteurs et d'endpoints, plateforme IoT web et mobile et certaines fonctionnalités de la plateforme comme la fonction multi-tenant ou la console d'administration, etc.
L'exposition accueillera 6 événements co-localisés couvrant l'IoT, l'IA et le Big Data, la cybersécurité, l'Edge Computing et la Blockchain, avec 5 000 participants attendus, y compris des décideurs informatiques, des développeurs et des décideurs, des OEM, des représentants du gouvernement et du conseil, des dirigeants de l'automobile , opérateurs, fournisseurs de technologie, investisseurs, capital-risqueurs et bien d'autres.
L'ordre du jour de la conférence de cette année se compose de deux jours couvrant les applications d'entreprise de l'IoT. Certains des sujets comprendront:
Développer des opérations avec des jumeaux numériques
Numérisation et automatisation pour l'IIoT
Performances de sécurité et de fiabilité de niveau supérieur dans les opérations via l'IoT
IoT et connectivité des données – Optimisation grâce aux informations
Créer une technologie durable pour les villes intelligentes
Créer des expériences immersives avec la 5G
Connectivité pour des villes intelligentes résilientes
Planifiez un rendez-vous avec notre équipe pour discuter de votre projet IoT :
Nous avons hâte de vous voir là-bas!
Pour plus d'informations sur l'événement, y compris toutes les options de billets, visitez : https://www.iottechexpo.com/europe/
More information about
KHEIRON IoT Suite