New Alliance with UAE distributor Network Synoptics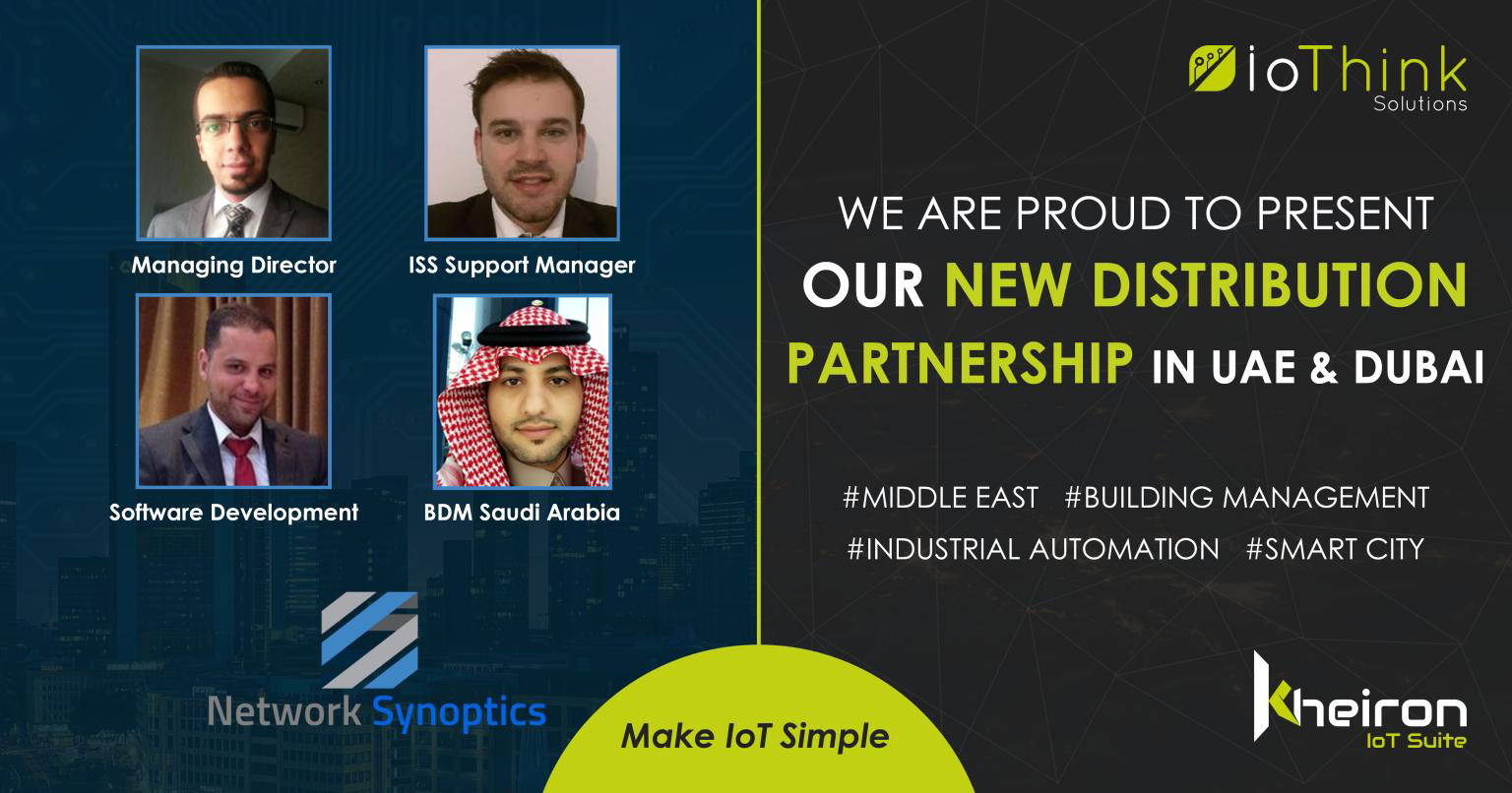 What is Network Synoptics ?
Network Synoptics is a technical distribution company based in UAE delivering integrated command and control solutions for a network of integrators covering the Middle East, our main specialty is in integrated security software solutions and integrated automation solutions.
What are your goals ?
As representatives of open platforms manufactures, our goal is to deliver and supporting integrated software modules and gateways that are pre-engineered to work together and work well with other competing products, we aim to simplify complexity and speedup deployments, we do this by teaming up with specialized and innovative companies that manufacture complementary open architecture solutions, and by empowering our network of local integrators with training and knowledge transfer.
How the partnership with IoThink Solution can help you develop your business ?
IoThink have made it easy for us to sell and support IoT/M2M solutions; we can demonstrate many use cases to our system integrators and their end users, and we can quickly implement proof of concepts based on the wide ecosystem of devices.
KHEIRON IoT Suite is backed up by a team of friendly and motivated people who have great experience in different market sectors and we could always count on them to get the job done.
Why did you decide to move forward with IoThink Solutions?
We were looking for an easy-to-use and customizable IoT platform with out of the box tools to accelerate the deployment of any M2M/IoT connectivity requirement, a platform form a specialized company that has a dedicated R&D and support team, a platform that is already integrated with the majority of sensors and meters our customers could use, KHEIRON IoT Suite is a great fit to what we are doing and what our clients expect from us.
Which markets are your main targets?
We see huge demand for building management and industrial automation applications, and also smart city applications such as smart lighting and environmental monitoring.
Geographically, we cover 5 countries in the Middle East: Jordan, Egypt, Saudi Arabia, Kuwait and Qatar.
What are your company's aspirations (and how do you foresee the future)?
The M2M/ IoT market in the Middle East will continue to grow year after year, the ability to remotely monitor and control equipment and assets is becoming more important than ever, installers and end users expect their IoT platform to be secure, brand agnostic, easy to deploy, and easy to use, we see a huge growth in the need for remote monitoring and connectivity of systems. Buildings and facilities with outdated automation and security systems will need to use IoT wireless connectivity for smart meters and sensors, and with the help of IoThink Solutions we can add value to this market.
What are your best assets for success?
We represent the best open architecture software solutions in the market, we work with and empower the best local integrators in the middle east, and we enable our end clients to utilize their existing investment in legacy technology solutions if they want to, and our experience in the integrated automation field combined with our experience in integrated security makes it easy for us to add intelligence layer to facilities and enhance the safety, security, and efficiency of buildings and infrastructures.
More information about
KHEIRON IoT Suite