District Heating Network optimization for the City of Blois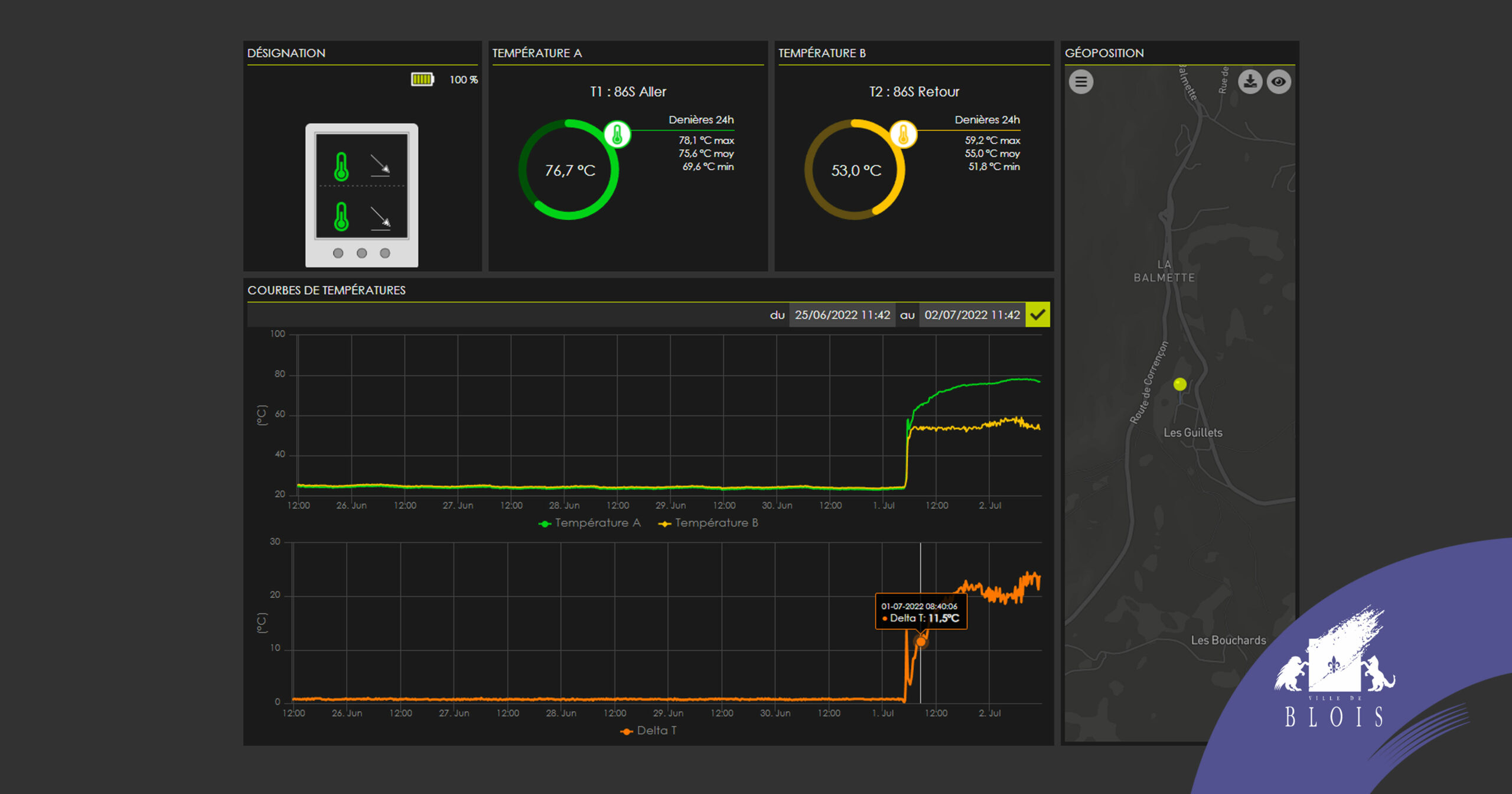 The IoThink Solutions team got contacted by the urban heating department of the City of Blois in France to optimize the district heating network of the whole town and reduce heat loss.
The initial need:
Initially, the temperature in the boiler room of this priority development area network was considered to be too high. The maintenance team needed to analyze the possibility of regulating the temperature to set it to 109°C (for hot water).
The main goal was to analyze the behavior in the substations, optimize them and improve the operations on the network itself.
When the results of the entire campaign indicated a possibility of lowering the temperature regime, the team decided to conduct a more serious study in order to validate the possibility of improving the entire network.
Here the users were mainly tenants of housing but also tenants of city buildings, schools and sports halls. The network is composed of more than 90% renewable energy and is supplied by a 14km network.
In the near future, the gains of this downgrade will be mainly to get less expensive equipment, reduce heat loss and maintenance, with the objective of keeping the heat cost under control.
Originally, a technician would go onsite only once a month to perform temperature readings.
Now, the urban heating service can monitor remotely the temperatures of the city heating system by receiving data automatically every 10 minutes !
For this project, Enless Wireless temperature sensors (dual probes) have been connected to the heat circuit of the sub-stations of Blois.
The technology selected here was the LoRa public network operated by Orange Live Objects.
If a threshold is exceeded (high or low threshold), corrective action is taken by the operator who manages the heat delivery through the public service delegation contract after consultation with the City Council.
Benefits of this IoT solution:
– High flexibility and very "user-friendly" web interface
– Limited public heating expenses
– Simplicity of the implementation
– No need for on-site data collection
– Time and human resources saved
– Increase in data frequency and accuracy
First feedbacks on the solution implemented
Jean-Philippe Greus, Heat Systems Technician indicated:
"The use of connected probes has allowed us to quickly set up a temperature measurement and monitoring campaign. Initially, this had a significant impact on the human resources mobilized. We would not have been able to carry out this operation with traditional probes whose installation and follow-up would have been very time-consuming (agent time which we did not have). Thus, the cost of the equipments deployed was amortized through the agent time saved over the campaign period.
The connected probes allowed us to get feedback from the beginning of the data transmission, which would have required a much longer time with probes equipped with recorders. The main goal of this operation was not to save energy but to optimize the management of the network and thus to free up heat in order to consider other connections without increasing the power or lowering the temperatures. These measures will subsequently result in potential savings."
More information about
KHEIRON IoT Suite