OPTIMIZ NETWORK is now IoThink's new integration partner!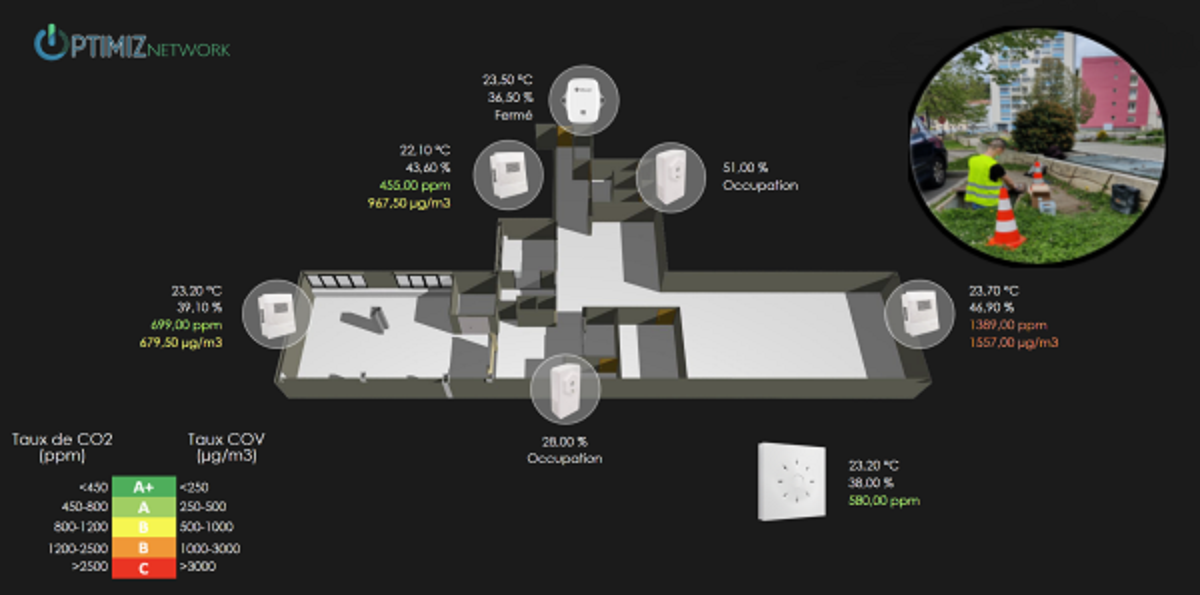 A brief interview of the company's founder, Mickaël Charrier:
What is Optimiz Network?
OPTIMIZ NETWORK is an engineering and consulting company expert of the Internet of Things, that develops innovative solutions to support the digital transformation of the whole society.
The team has the capacity to intervene at any stage of the deployment of an IoT project: consulting, design, integration, data collection and data management.
The company is only 1 year old but it relies on 10 years of experience in the field of communication networks (fiber, radio, etc).
Our activity is mostly focused on Smart Building and Smart City projects.
What are your objectives?
Let say that for 2021 our main goal is to make a place for ourselves in the French IoT ecosystem.
We have already established effective partnerships with sensor manufacturers, other companies in the building sector, especially BIM specialists, network operators and ultimately with IoThink Solutions for the exploitation of the Kheiron platform in white label.
How can the partnership with IoThink Solution help you develop your business?
Before the creation of OPTIMIZ NETWORK, we carried out various benchmarks of the many IoT management platforms on the market and the solution provided by IoThink seduced us by its flexibility and the customization allowed, thanks to the Studio. Indeed, each project has its own characteristics and it is important for us to be able to provide our customers with customized solutions.
Why did you decide to go ahead with IoThink Solutions?
We immediately appreciated the relationship with Julien DALMASSO (IoThink's CEO) and of course we were interested in their technical solution. We make it a point of honor to work with partners in total confidence. This allows us to create synergies between different entities and that is the aim of a win-win partnership.
What are your main targets?
As mentioned, we are focusing on the Smart Building market. The French "Tertiary Decree" and the European "BACS Decree" are causing a lot of changes in the sector at the moment and IoT solutions are proving to be perfectly suited to the modernization of buildings in order to measure and optimize energy consumption.
We are also convinced that the arrival of Building Information Modeling and its association with the world of "IoT" and therefore of real-time data brings real added value to all managers.
The other axis is more about Smart City projects, and here too there is a lot to do. We are currently giving particular priority to a project to supervise and secure street cabinets. These equipments are present everywhere in our urban and rural landscape and host very critical infrastructures (the very high speed fiber optic network for example). Since the beginning of the year, we have been developing our intelligent monitoring solution for these structures. It is being tested locally and we are aiming to deploy it by the end of this year.
What are your company's aspirations ?
The IoT market is still  an emerging sector and the projects are all very interesting. Our aspirations are to work on projects with high added value but also that respond to sustainable development issues so as not to deploy technology that would not make sense and that would go against the true definition of "development".
What are your best assets to succeed?
Today we have a great team, reliable partners and lots of ongoing and upcoming projects, so all the elements seem to be gathered to succeed!
Visit OPTIMIZ website for additional information: http://optimiz-network.fr/
More information about
KHEIRON IoT Suite