IoThink Solutions signed a partnership with Konecto to develop its activities in North America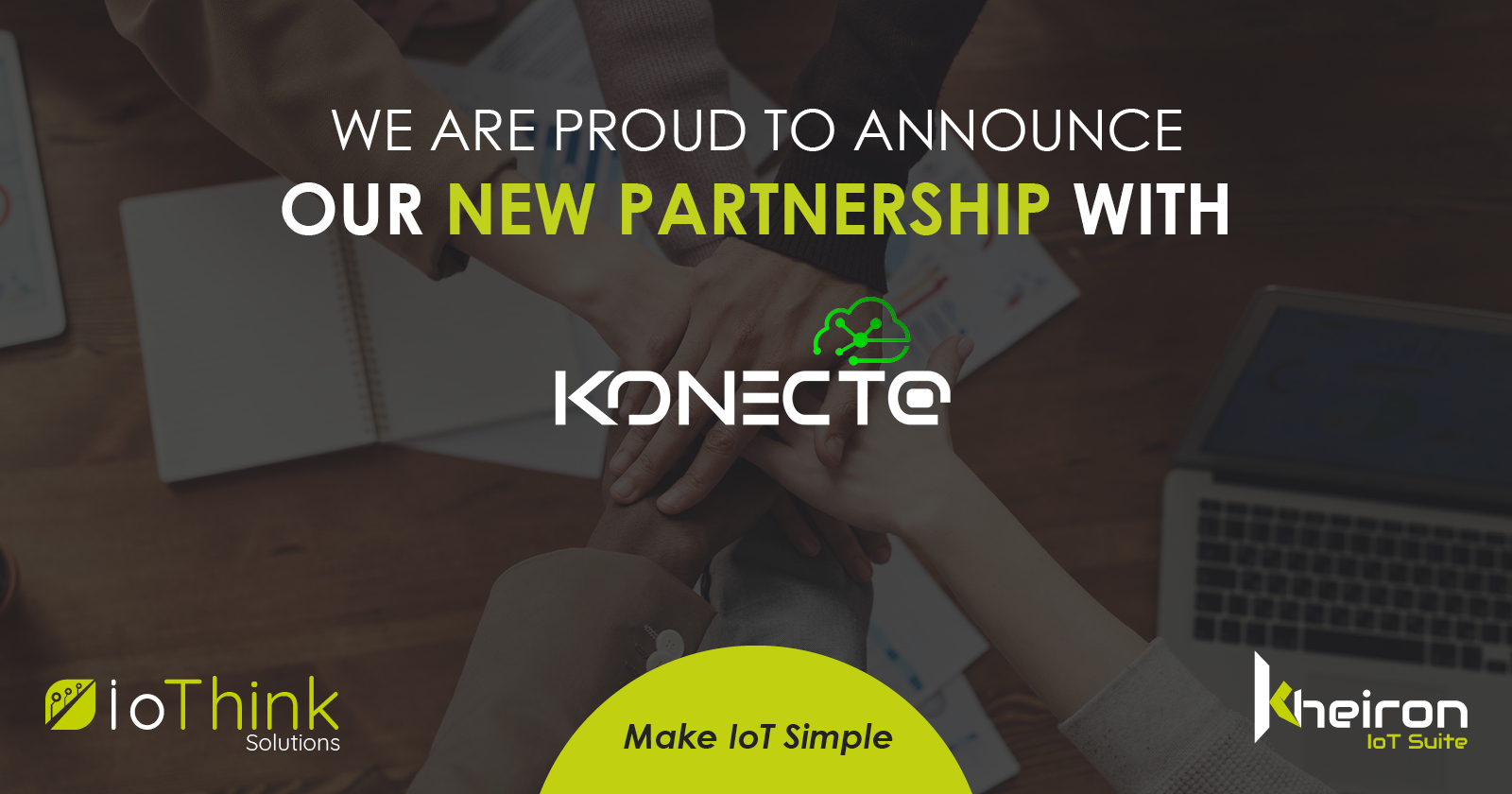 IoThink Solutions, the software editor specializing in IoT/M2M platforms and expert in integration, is pleased to announce the conclusion of a partnership with Konecto, is helping companies to transform their IoT vision into business reality.
Together, IoThink Solutions and Konecto are helping companies meet the challenges of digitalizing their offerings and services through IoT. This new partnership will benefit our clients and partners in the Americas to develop their digital transformation strategy more quickly and easily, offering them a full range of sensors, gateways, and connectivity together with our interoperable platform, Kheiron IoT Suite.
About Konecto:
With a presence throughout the Americas, we are a team of experts in the various IoT fields-business processes, hardware, software, and communications-with one mission in mind: To solve our customer's business challenges by providing end-to-end IoT solutions. We are recognized by our ability to generate the desired business outcome with robust cost-effective IoT solutions.
Which markets are your main targets?
Our vertical solutions target the Manufacturing, Closed-loop Logistics, and Retail industry. Additionally, our customers and partners can benefit from our Managed Network Infrastructure & Professional Services offering.
What made you want to partner with IoThink Solutions? Why did you decide to move forward with IoThink Solutions?
IoThink Solutions offers an easy-to-use, yet very powerful, flexible, and scalable platform, which is perfect when delivering enterprise-grade IoT solutions. The IoThink Solutions platform was created from the ground up to be part of an IoT business solution, so it offers a robust, scalable, and secure architecture.
What are your expectations and desires for this partnership?
Our expectation is to collaborate with the IoThink Solutions team to provide great solutions for our customers, that will help them to solve real business problems, create competitive advantages, and add tangible value to their businesses.
What are your company's aspirations and how do you foresee the future?
We want to keep and improve our reputation for great services for our customers. We want our customers to know that we got their backs and that our success is to help them in their journeys.
About IoThink Solutions:
IoThink Solutions is the software editor that enables companies to meet the challenges of digitalization of their offerings and services through IoT.
The Kheiron IoT Suite is an end-to-end solution to create use cases without technical skills, it is also a middleware to match with integration projects and it puts the collected IoT data at the service of the strategy. The platform collects data from heterogeneous technological environments to connect, visualize and exploit them in a homogeneous way. Today, we provide our customers with a public library of over 800 sensors, 100 dashboards and 20 endpoints.
We look forward to working with the Konecto team to deliver superior solutions that help our customers solve business problems, build competitive advantage, and add real value to their businesses.
More information about
KHEIRON IoT Suite